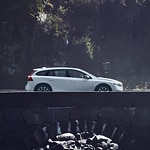 Contemporary Swedish design is the hallmark of the Volvo V60 Inscription. It brings luxury and distinct looks to this popular sports wagon. Check out the trim on this year's Volvo V60 Inscription.
Luxury comes standard on the V60 Inscription. Leather seating surfaces provide an elegant touch. A panoramic sunroof brings in the sun and air anywhere you drive. A power-operated tailgate gives this luxury vehicle a practical touch. The LED headlights ensure you're seen anywhere you go, day or night.
Exclusive chrome trim gives the exterior of the Inscription its signature looks, from the vertical front grille bars to the edges of the side windows. Inside, the distinct look of driftwood offers a unique accent. The tailored dashboard, Harmon/Cardon stereo, and Sensus Navigation bring all the modern luxuries you expect from today's Volvo lineup. If you want to see the V60 Inscription for yourself, take a test drive here at Beyer Volvo Cars of Falls Church in Falls Church, VA.