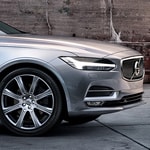 The staff at Beyer Volvo Cars of Falls Church understand what makes the Volvo V90 a luxury wagon. It has an abundance of features that make driving feel like a privilege instead of a chore. Of these many features are the standard safety features found in the vehicle.
Among them is the forward and rear collision warning. The system will actively warn you if a vehicle or object is approaching in the front or the rear of your vehicle. It allows you to react and prepare to safely navigate any impending collision. Front and rear parking sensors are also showcased in the Volvo V90.
Parking may seem boring at times, but it is something you will have to do whenever you take your wagon out on the roads. The system lets you know when you are a bit too close to an object as you enter your parking space. Visit us at our showroom in Falls Church, VA to test drive this excellent wagon from Volvo.