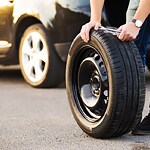 Most cars today are sold with a temporary compact spare. Often referred to as a donut, this tire is much different from the full-size tires that you are familiar with. Beyer Volvo Cars of Falls Church wants to help you understand the difference between compact and regular spare tires.
A donut is designed for a particular purpose. It was meant to help you get to a service center for a tire replacement following a flat. It is not meant to withstand long distances, nor can it manage high speeds. A full-size spare is just like your regular tires. In fact, you might want to consider replacing your temporary spare with a full-size tire.
Your safety matters to us. We invite you down to our dealership here in Falls Church, where you can schedule tire maintenance or other services. Our team of service technicians will be happy to share more tips about compact temporary spare tires.